The fully funcional version of this homepage is only available for browsers that can manage frames! This is just a summary some of the things this homepage contains:

General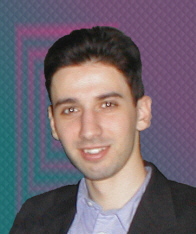 My name is nikos dimitrakas.
I was born in Athens, Greece in 1977 and moved to Stockholm, Sweden in 1995.
I have studied computer science at Stockholm University where I am currently employed as a teacher.
I speak English, Swedish, and Greek fluently; I also understand some French and German.
Some of my hobbies include billiards, cycling, tennis, and collecting stamps.
Student
As a student I have attended a number of courses. Some of them I have passed, some I have not yet completed, and some I have dropped out of.
The courses that I have passed are equivalent to (at least) a Master's Degree in Computer and Systems Sciences with a bunch of minors.
Teacher
As a teacher at Stockholm University and KTH I am involved both in teaching and in other research projects.
My teaching style is best described as follows:
As a tutor I never give the full answers/solutions. I try instead to give small hints and tips that will then stimulate the individual or group to think and arrive to the result on their own.
Generally I expect a lot from my students but that is only because I want them to learn as much as possible.
When correcting assignments and exams I try to be lenient but at the same time set a limit. I try to comment solutions and answers even if they are correct. I consider it important that students understand the pros and cons of different equivalent solutions. I try to comment incorrect solutions in a way that the correct solution is not always clear. I prefer saying "This doesn't seem right. What if we had this case...". Then the students have to find the error/problem themselves, which is in my opinion a very good learning method.
When the students are faced with a problem of choosing between different (equivalent) alternatives I try not to influence them towards a certain direction. I believe it is important that they can compare the alternatives themselves and choose one on their own.
I am working for the Department of Computer and Systems Sciences (DSV) which is a part of the IT-University. The IT-University is a joint venture between Stockholm University and KTH - Royal Institute of Technology.
Associations
During the years I have been active in different associations. Here is a list of the associations I've been involved in and the roles I've had:
LOm (Lappkärrsbergets Områdesförening)
President
Vice president
Webmaster
Founder and president of the Leisure Club
SSF (Stockholmsstudenthyresgästers förening)
LOm representative
Webmaster
Representative in BIK
NDB

NDB New Dimension Base is the name of my company. NDB is a company that my friend Henrik and I own together. The company has most of the time been passive, but it may eventually become more active.
| | |
| --- | --- |
| | The name NDB New Dimenstion Base was an idea I already had when I was 16 years old. The business area has varied a lot, but it has always included IT develompment. |
nikos dimitrakas
Forum 100
SE-16440 Kista
Stockholm Sweden

Tel#: +46-(0)70-4295348 (mobile)
Tel#: +46-(0)8-162099 (work)
ICQ#: 10054398, 117538991
e-mail: nikos@dsv.su.se